Support the Cenacle: how to help?
Financial support is only one means of helping the Sisters in their mission of awakening and deepening faith through the ministry of retreats, spiritual direction and other means of education in the faith. If you are interested in sharing in our mission in whatever means and circumstances you have, please do not hesitate to contact us. We will be happy to discuss this with you.
Cenacle Scholars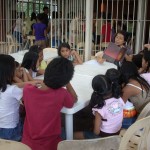 The Cenacle Scholars project began around the year 2000, when Sr. Angie Villanueva made her visitation of the Cenacle Sisters in Singapore.  A Filipina domestic helper came to her with an unusual request: she had been supporting her sister through dental school but now her sister was graduating and she wanted to know whether she could use the money she had been putting aside to support her sister to instead support children and youth in the Philippines with their elementary and high school education!  Angie was impressed by the selfless generosity of this person, who, instead of being happy to have extra money for herself, was just thinking of helping others!  She accepted to receive this continuing support from this person to help children and youth in the Philippines with their education.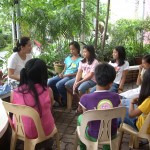 Thus, in the middle of the school year 2000-2001, three Grade School Scholars were recruited as beneficiaries of this donation from a simple, Filipina domestic helper.  Others soon heard of this happening and added their donations for this continuing project so that it grew to having eleven scholars, then twenty-one scholars, then thirty scholars, and now, for the school year 2012-2013, we are at the all-time high of having thirty-five scholars: ten in high school, four in Grade VII (transition of K+12) and twenty-one in Grades II to VI.
Every other month we hold an Assembly of Scholars and Parents to have around seventy persons with a staff of about eight to give sessions to Grades II-IV Scholars, Grades V-VI Scholars, Grade VII and Year II Scholars and Years II and III Scholars; as well as Bible Sharing for groups of Mothers and a few fathers: parents of Grades II-IV children, parents of Grades V-VI students,  parents of Grade VII and Year II students and parents of Years III and IV students.
The Assemblies are held on the afternoons of the first Sundays of June, August, October, February, and April at Our Lady of Pentecost Parish Multi-Purpose Hall.  In December, instead of holding an Assembly on the first Sunday, we have a Christmas Party on the Sunday close to Christmas.  This year, we will hold our Scholars' and Parents' Christmas Party on Sunday, December 16th, at Our Lady of Pentecost Parish Multi-Purpose Hall, at 1:30 to 5:00 p.m.
For this Christmas Party, you can share whatever you can in money or in kind to bring cheer to these Cenacle Scholars and their families for Christmas.  If you are giving in kind, just remember that we need 35 pieces of whatever you wish to give. If you donate money, we will use this for food and prizes for the party.  Oh, yes, you could also donate dishes for the Christmas Party!
To date, we already have really b-i-g(!) bags to contain the stuff and goodies we will give out,  and 70 notebooks!  Your donations of money and kind will be much appreciated!  Please contact Sr. Angie Villanueva at tel:  (63 2) 933-7069.  Thank you very much and God bless and reward you abundantly!